IDI Digital to Film Conversion Services
Overview
IDI provides its federal, state and local government and commercial customers with bi-tonal and gray scale high resolution images (200, 300, 400, 600 dpi) on 16mm, 35mm and 105mm archival microfilm.   The recording center is equipped with ten IDI Electron Beam Film recorders connected over a local area network. Digital document files are transferred from CD's, DVD's magnetic tape, magnetic disks, and Internet servers for conversion to microimages on film.  IDI maintains a Film Processing Facility equipped with Roll to Roll Inspection Viewers, Stereo microscopes, light boxes, X-Y Coordinating Measuring Equipment and Densitometers. Image Graphics e-beam film meets all ANSI and AIIM Standards.
Digital Input Data to the Electron Beam Film Recorders can be in Raster Formats such as TIFF (CCITT Group 3, 4, RLE and Uncompressed), PostScript, PDF or grayscale; and Alphanumeric Formats such as ASCII or EBCDIC.
The ten IGRC Electron Beam Film Recorders have a combined annual production capability of well over 200,000,000 images dependent upon image size, reduction ratio and data format. Our recording center is operated on a three shift basis, five and a half days per week.  In addition to the Film Recorder Operators, Film Processing and Quality Control personnel, the recording center has the support of Software and Systems Engineers and Photographic experts.
Microfilm
The films used in the IDI Electron Beam Film Recorders and the chemistry used to process the film is opening stock and commercially available from Kodak.  Archival microfilm, suitable for preservation output, is Kodak Imagelink H.Q Microfilm 2461 and Kodak 2462 (Estar Base).  These films are available in 16mm, 35mm and 105mm widths and have been used by IDI in the IGRC and its micropublishing customers for over 10 years.
Film Processing
The recording center processes its film in a deep tank Allen Film Processor and maintains strict control over film processing. Methylne blue testing for residual silver thiosulfate to meet ANSI Standard LT9.1-1989 for Archival Microfilm is performed by Kodak as part of the Kodak Document Conversion Center Program, to certify that it meets the ANSI Standards.
Quality Control
All processed film is inspected for cosmetic and recording defects with a stereo microscope on a light box.  Image resolution, density and geometry are measured from test patterns recorded at the beginning and end of each roll of film. Full size image inspection simplifies close examination for copy errors, pin holes, scratches and other subtle defects.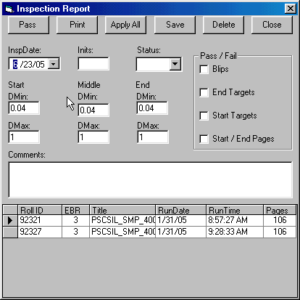 IDI has worked extensively with State Archivists and prestigious Universities such as Cornell to set standards for film quality in the microfilm industry.
Film Handling and Storage
All archival film is wound on certified archival plastic reels and stored in certified archival plastic or acid free boxes.  Special care is taken to handle the film with lint free gloves at all stages of the production process where handling is required.  IDI maintains control procedures shown to insure the quality and consistency of the output film product.
Description of Proposed Conversion Services
The IDI Recording Center has helped set the industry standard for Preservation Output Microfilm.  IDI's patented electron beam film recording technology produces the finest microfilm in the world.  In addition to the best quality image available on the market, Image Graphics has worked diligently to develop the e-beam film process to provide cradle to grave tracking of e-beam film production. The e-beam film process in conjunction with e-beam film quality provides our Customers with sophisticated records management solutions
In order to track production operations required to produce the Customers microfilm products, IDI utilizes it's advanced Production Control & Workflow System . The Production Control & Workflow System manages the production of microfilm projects from receipt at Image Graphics to shipment to Customers.  The following narrative describes the software interaction required at each operation.
Scanned Images are transmitted to IDI via secure FTP or sent to IDI on CD- ROM or hard drive All media that is sent to the Image Graphics Recording Center is labeled with a media number and inventoried in our Work Order Tracking System.  The media will be stored and segregated in our Records Vault while awaiting production.
Once the media is received in the IDI Recording Center the projects will be queued in a storage server and matched with incoming order information from the Customer.  The recording center Production Control & Workflow System will segregate the images into recording queues based on the order information.  Once the electronic data has been sent to the appropriate recording queue it is ready for the priority assignment.