Imaging Innovations
An IDI Newsletter
In This Issue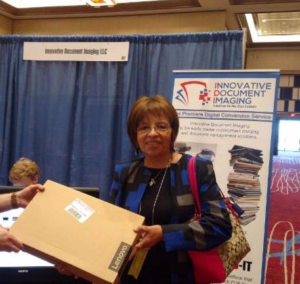 June 2016
____________________________________________________________
Innovative News
Thank you to all who stopped by our booth at the NJLA show May 17th and 18th. We always enjoy seeing our customers and meeting new prospects and we also appreciated all the positive feedback. Congratulations to Jane Crocker of Rowan College at Gloucester County who won the drawing for the laptop computer. (picture above) IDI will next be exhibiting at the Connecticut Historical Society June 6th in Meriden, Connecticut.
In May IDI wrapped up a half million image conversion for a major Pharmaceutical Company in Massachusetts. We completed a 150,000 image project at IDI for Tulane University as well as 3 projects for a major publisher at the Dolph Briscoe Library in Austin, Texas.
In June we started a book and microfilm scanning project for the New York Public Library as well as a microfilm conversion project for the Ocean County Library and a scrap book project for the Brooklyn Historical Society. We are also converting plot maps for a large Cemetery in New York and we will be picking up a book project we were awarded by the Maryland Judiciary. We are also on site scanning at Indiana University.
Clark Library is the latest NJ library to add a Digi-Find-It portal for displaying and searching the town's local newspapers as well as many other digital archives.
Digital Memory Media in May ran very successful fund raising events at the Neptune Library, the Stafford Library in Ocean County as well a Temple in Howell which was the first event we ran at a house of worship.
Visit us @ idiimage.com
Digital Memory Media 2015 fund raising sessions were very strong and we already have several bookings for 2016 (see below) and multiple other commitments but dates to be determined, so please book your session early. We can currently accommodate
3 simultaneous sessions on a Saturday and 2 hour sessions work very well.
Library Session Schedule 2016
Kemmerer- June 9 (Thurs) 7:00 pm-9:00 pm
Waldwick- June 18 11:00 am-1:00 pm
South Brunswick- June 18 11:00 am-1:00 pm
Summit- June 25 11:00 am-1:00pm
Robbinsville- September 10 10:00am-12:00pm Belmar Historical Society- September 24 Time-TBA Washington Township- September 24 12:00 pm-2:00 pm Little Falls- October 1 12:00pm-2:00pm
Pequannock- October 15 11:00 am-1:00 pm
Summit- October 15 11:00 am-1:00 pm
Manchester- October 22 10:00 am-12:00 pm Sponsoring organizations receive twenty percent of all proceeds as a donation from Digital Memory Media.
Want to bring Digital Memory Media to your library?
visit us at www.dmmem.com