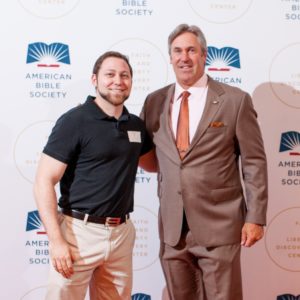 American Bible Society will have new attraction that will make its home on Independence Mall in Philadelphia. Projected to open in 2020, the Faith & Liberty Discovery Center will invite people from all backgrounds to embark on an immersive experience to learn about the Bible's influence on American history and culture.
The goal, according to American Bible Society President and CEO Roy Peterson, is to ignite curiosity and encourage visitors to explore questions such as, "How did the Bible influence the people who shaped our nation."
Innovative Document Imaging has digitized millions of documents for the American Bible Society and we sponsored a Table at the Faith and Football Event Jan 11th in Philadelphia. At the event: Shane Simon, IDI's Digi-Find-it Manager, enjoyed a meet and greet photo session with the personable winning Superbowl Head Coach, Doug Pederson of the Philadelphia Eagles.